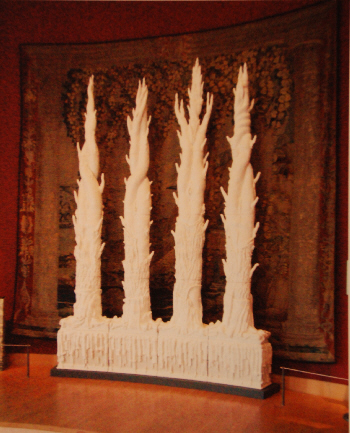 Elmar Trenkwalder
Contrepoint exhibition Louvre Museum winter 2005 - 2006
Sculptor, painter and draftsman, Elmar Trenkwalder was born in 1959 in Austria.
He currently lives in Innsbruck after spending several years in Cologne.
From la maison de la culture, in Amiens in 2003, to la maison rouge, in Paris in 2008, he has participated in several international events such as the Biennale of Gorizia, the Venice Biennale, the Biennale of Lyon and the Contrepoint exhibition at the Louvre Museum.
At the edge between reality and dream, the work of Elmar Trenkwalder arises from a very dense imaginative activity, close to hallucinations.
Permanent questioning of the shape characterizes the sculptures, paintings and drawings of Trenkwalder. Characters become architectural elements and vice versa. Both sexes coexist in one and the same shape.
Sexual symbolism, metaphor and allegory are inextricably linked to architecture. Taken separately, the components are clearly identifiable, but their sum, their synthesis, defies categorization.
Courtesy Galerie Bernard Jordan